In any discipleship process, relationships are essential. A disciple maker is seeking to engage the heart of a new believer, or a disciple partner, with spiritual truths that lead to life transformation. These spiritual conversations have a high view of Scripture and emphasize our response to the Holy Spirit. What is God saying? What are you going to do about it? Discipleship can be that simple, but many struggle with asking good questions that foster spiritual and emotional health. Many are afraid to drill down to the issues under the surface or to be vulnerable about their own weaknesses. This type of thinking lacks spiritual depth and maturity, because exposing our sin to the light is the key to setting us free! Being transparent about our failures (or even perceived deficiencies), provides the context to be renewed in our mind and restored and strengthened in our spirit.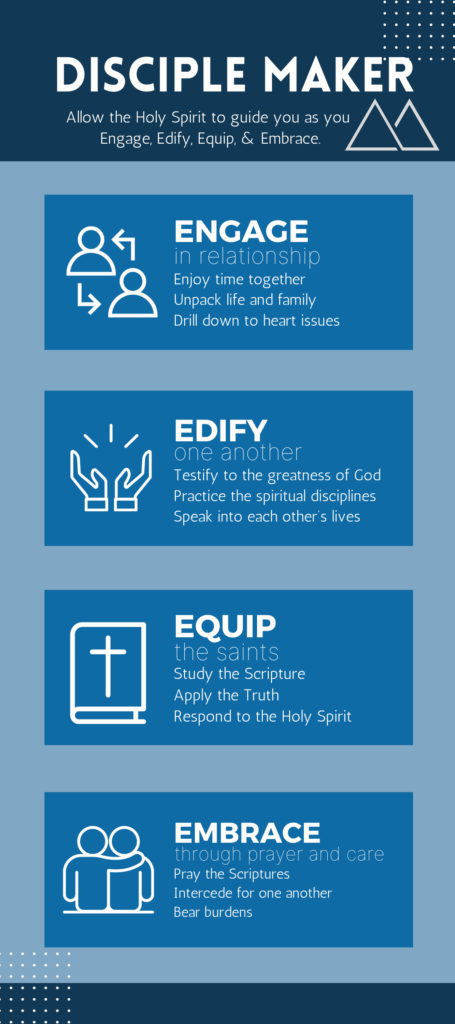 We all believe that the Word of God is powerful and active. It is profitable for teaching, rebuking, correction, and training, but it must be applied on the heart level for one to see life change. Yes, it is our union with Christ (Christ in me) that activates our mind and our will into action. As we walk in the Spirit and are controlled by the Spirit, we are transformed. We must not discount, however, the essential benefits of living in community with other believers, as well. These discipleship relationships provide encouragement and accountability that point us to Jesus. They offer insight into how one breaks through barriers to spiritual growth by sharing our experience and godly wisdom. Believers who are united in spirit and purpose, help identify false thinking, destructive attitudes, and sinful behaviors that impede one from living in victory and joy. The Body of Christ serves a vital role in our discipleship.
At Big Sky Fellowship, we developed a First Steps for new believers. It is an intentional process to teach and model discipleship relationships. Using the model of Jesus, it outlines biblical principles to create a framework for spiritual conversations. We call them the Four E's. It's a blue print for discipleship relationships and these key ingredients can be applied to every level of discipleship. We use them in our one-on-one relationships, our small groups, and our Bible Studies. We model them in our Huddles, which connect and train disciple makers. We also coach and mentor ministry leaders in the same way. Discipleship is all about our relationship to Jesus and one another!
At BSF, we took these relational components and made them into a Disciple Maker card. They are given as a guide. They give us Kingdom focus and clarity. They also keep us on tract to live out our mission. As you look at the graphics of the front of the card, the EQUIP time is modified to the setting. The content of the EQUIP time will be different for a small group book study, a Bible study, or the lesson of a Sunday school class. In our Huddles, we use the multiplication pipeline materials. You can check out that resource here: www.namb.net/send-network/pipeline/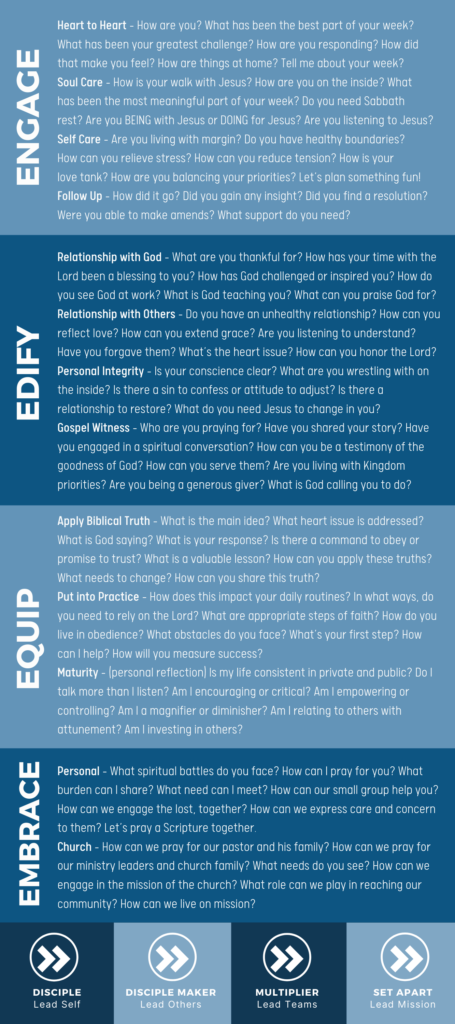 Whatever discipleship format you use, the components of ENGAGE, EDIFY, & EMBRACE are also necessary. They deeply connect believers and unify them in their mission of making disciples. They highlight our union with Christ and our fellowship (koinonia) with our church family.
This is not a rigid formula. The amount of time invested in any area of discipleship varies week to week and is led by the Holy Spirit. There are times when a pressing issue changes the agenda. This is okay. Take time to relate to your disciple partner or small group and meet spiritual or physical needs.
On the back of our card, we crafted questions that foster spiritual conversations. They are designed to prime the pump. As one listens, these questions will inspire deeper questions that get to the root of the issue one is facing. You may only address three or four questions a week. Address all of these levels over time, and as the Lord leads.
As one matures, the depth of the questions grow. As trust is established, the level of accountability is raised. As the Gospel engages our hearts and minds, we become more active in sharing our faith. As we mature, we walk in the truth and extend grace to others. As love and care are expressed, we become a beautiful reflection of Jesus. There is no cookie cutter approach to discipleship, but it must be intentional. The Disciple Maker card provides structure to knowing Jesus and making Him known.
Would you like your own Disciple Maker cards? We can add your logo. We can adapt the questions to those you formulate and share. This resource can be applied to your context. Make it your own, and we will help!
Do you want an updated copy of First Steps? We can do that too! The same parameters are in play. You can reach out to me at [email protected] or (406) 461-9120.