By Scott Barkley, posted September 5, 2023 in Churches and Ministry
HATTIESBURG, Miss. (BP) – Building a volunteer team isn't just about what you do, but what you don't.
It is about extending a personal invitation, said Drew Chapman, Next Steps and Outreach pastor at Temple Baptist Church. It is about training. It is about assessing the best place for service and communicating expectations. It is about recognizing the work and time of service.
It is not about begging. It is not about spreading on a layer of guilt, no matter how thinly veiled.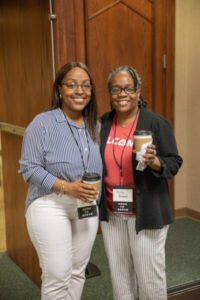 "I get it. Sometimes there are roles where you're just trying to get someone to fill in," Chapman said. "But guilt is a bad motivation and they would already be serving for the wrong reasons."
The difficulty of finding church volunteers is nothing new, as shown by the numerous "How-to" posts and articles available with a quick online search. It's a trend among society in general, though, and one where the decline has been going on for decades.
A report released by the Census Bureau earlier this year showed that while informal helping rates – activities such as helping out a neighbor – remained steady from 2019-2021, formal helping rates dropped in every demographic group.
Approximately 400-425 church members make up Temple Baptist's volunteer force every Sunday. Significantly more are included when considered that different volunteers rotate from week to week.
Yes, Temple has more people. But the bigger the church, the bigger the need. Challenges remain regardless of size, such as recruiting and maintaining volunteers, getting new ones in order to prevent burnout among veterans and being sure all know they are appreciated.
When it comes to drawing in volunteers, announcements during worship or Sunday School cast a wide net. But Chapman encourages the most direct method as the most effective.
"Personal invitation," he said. "We've tried so many ways, but I'm telling you, we're big on giving a personal invitation. I'm saying that as a staff member but also a current volunteer."
While many ministry groups undertake getting new volunteers on their own, Chapman's role is focused on identifying new ones and finding the place they are best suited for service.
This includes a Wednesday night class on serving and spiritual gifts assessment. The former introduces volunteers to the church's needs while the latter provides a clearer look at where they may be best suited to plug in.
Sometimes, this includes lovingly talking to a volunteer about moving into a different area of service because the one they chose doesn't fit. In those cases, the spiritual gifts assessment helps provide a path.
There is a connection between how you recruit volunteers and how you keep them. It's helpful to begin with a clear description of the volunteer's role, he pointed out.
"You may ask someone to hang out with teenagers, and they may not know what exactly that means," Chapman said. "Just like anywhere else you would go to work, you want to know what's being asked of you, the expectations and even for how long."
That last point isn't meant in a negative way, he added.
"People like to know if there is an end point," Chapman said, while noting that often they decide on their own to serve beyond that time. "It's important to have clear communications on what the role entails. Sometimes going over that reveals time conflicts, such as those who sing in the choir or may be serving somewhere else."
Volunteers help the church function, but are rewarded by serving others while finding a group for fellowship and accountability, Chapman added.
"They have found the community they are looking for on their team," he said. "Team leaders are checking on them, asking for prayer requests and seeing those needs are met.
"People need community. What I'm seeing is that team members are finding that, and that's a win."