"What do you get a tired pastor in Montana for the summer?" pastor of Valley Baptist Church, Huntley, Stan Bricker exclaimed. "A Freshwater Baptist Church mission team from Jefferson City, Missouri!"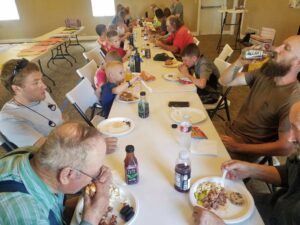 After traveling 17 hours across three states and missing two tornadoes, this team arrived in the Billings area on June 24, 2023.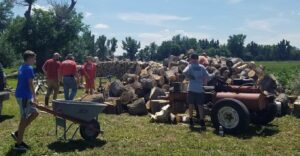 The large team, consisting of men, women, and children, came to the Sunday morning worship service at Valley Baptist Church located in Huntley. Team members, Eric, Kelly, and Barb, led some of Freshwater kids in worship; and Dennis Davis brought a message of hope from the book of Romans.
On Monday morning, half of the team traveled to Joliet to help Refuge Church with their Vacation Bible School. Those who assisted with VBS were Pastor Robert Strong, Roberto Rizo, Eric and Kelly Barb, Trevor and Elizabeth Isringhausen, and Steve, the bus driver.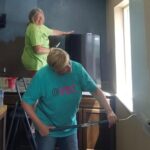 The remaining part of the team, Andy and Amanda Roseluis, Steve Grotroff, Hance Sommerer, and Dennis and Bryant Davis, proceeded to VBC ready to cut wood for their firewood ministry. Because of their hard work, they cut, split, and stacked 15 cords of wood. In addition to this, a pile of cut trees is ready to split for more families to keep warm this winter.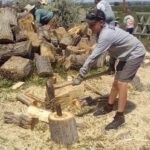 Two ladies of the team, Janice Davis and Vi Prenger, came inside to help prepare crafts for the upcoming Survival Camp. After that was accomplished, they asked what else they could do. So, we put them to work painting the foyer of the church.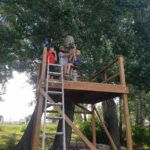 And fifteen children also made the trip, helping cut and stack wood; and attending and helping with Refuge's VBS.
Brandi Chamberlin, VBC's new children's ministry director, said "They were so helpful. All of our craft stuff has gotten done, so that we are ahead of schedule for Survival Camp. Giving out firewood is one of our major outreaches, so basically two of our church's outreach ministries were really benefited by the Freshwater team."
Pastor Stan remarked, "They filled the pulpit, gave our Sunday morning worship team a break, lifted our spirits throughout the week, and even put up our zip line!"