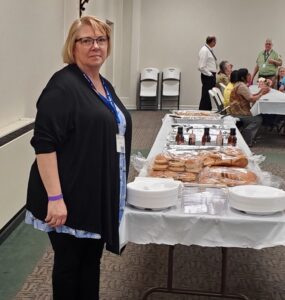 Poplar Bluff, MO—After an eight-month partnership agreement between the Montana Southern Baptist Women and the Missouri Women's Missionary Union, the leadership team from Montana went to celebrate and help wherever was needed at their historic 100-year Missions Conference, Hope in Christ, which was held on April 14-15, 2023, at First Baptist Church in Poplar Bluff, Missouri.
The team was made up of Tami Park and Carla Bell, Crossroads Memorial Baptist Church, Great Falls; Alice Chambers, Immanuel Baptist Church, Havre; Mandi McCraw, Big Horn Baptist Church, Fort Smith; and Diana Bricker, Valley Baptist Church, Huntley. Alesia Fowler, Racers Set Free Church, Billings, joined in, as she was already in the area for a family event.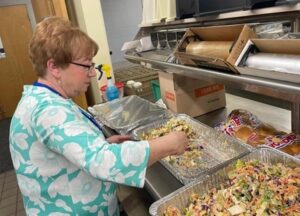 The team left on April 12 to fly into St. Louis, Missouri, and returned on April 19 to Montana. It was a busy week. First, a meal was prepared by the MSBW team and served to the Missouri WMU staff and the First Baptist Church set-up team on Thursday night. The Montana group also helped with the two other meals that were served during the conference and were able to represent the Montana Southern Baptist Convention by hosting a panel breakout session on missions in Montana.
Alice Chambers led a breakout session on Baptist Nursing Fellowship, a national WMU emphasis.
Friday was the first day of the conference with missionary speakers, breakout sessions, a flag processional, worship music, prayer calendar, testimonies, and theme interpretations by the national WMU Executive Director, Sandy Wisdom Martin.
Throughout the two-day event, recognitions of new WMU groups, offerings, and reports were part of each session.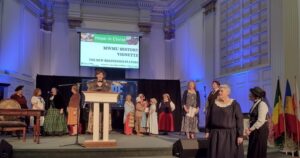 A Missouri WMU History Vignette was presented at the three main sessions. The New Beginnings Players from New Beginnings Baptist Church, Festus, MO, performed monologues, dramas, and costume parades of the one hundred years of Missouri WMU. They highlighted three of the past executive directors who had furthered the progress of missions throughout Missouri, the North American Mission Board, and the world with the International Mission Board.
On Sunday, the team was able to share about MTSBC missions at Temple Baptist Church, Poplar Bluff, between Sunday school classes. After lunch, the ladies were able to meet at the hotel and have a planning meeting for M-Power 2023 which will be held at South Hills Baptist Church, Montana City. The dates are September 8 and 9, 2023, and the theme will be Deeply Rooted. Look for information and details on the MSBW website.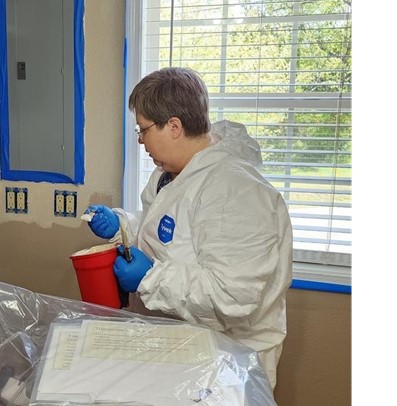 On Monday, Recycling Grace, an addiction recovery house run by a Christian nonprofit group, needed painting at one their properties. The MSBW group painted an office, bathroom, living room, kitchen, and dining area.
Tuesday was a travel day back to St. Louis to catch early flights in the morning. On the way was an opportunity to stop in to help Aspire, a crisis pregnancy center in Sikeston, MO. The women packed bottles for Aspire's baby bottle fundraising campaign and helped sort clothes for their new mom's baby closet.
New ideas and new relationships were formed on this partnership trip for the MSBW team. Much appreciation goes to all of the Missouri Women's Missionary Union Staff. Especially Cheryl Stahlman, Executive Director, for treating the team so well. The MSBW team looks forward to seeing and working with everyone again in September.
MSBW would like to thank Dr. Barrett Duke and the MTSBC for supplying the ground transportation while the ladies were in Missouri.