In January of 2023 a team of fourteen people from Explore Church went to serve with Catracho Missions in Comayagua, Honduras. This was an intense, rugged adventure deep in the heart of the Honduran mountains. Catracho missions has an incredible ministry to indigenous people. The following is a blog from Tom Attard, one of our team members.
Monday, Day 7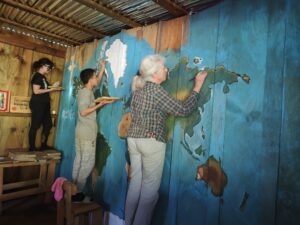 Monday was our final work day on the mountain. So many of our team members had become sick.
Every type of stomach issue, fevers, ear infections, and a ruptured ear drum. After the outreach, I had suddenly fallen ill with a fever, the shakes, and the chills. It seemed as though the physical ailments were potentially part of a spiritual attack after completing the successful outreach. But despite the physical difficulties, our group continued the work, attempting to complete the first functional bathroom, with a septic system, in the mission, as well as completing the mural and painting.
The sickness made the tasks all the more difficult, but our team persevered, and after the final work day we had accomplished many of the tasks we had started. With the help of the local Catratcho team, we painted the exterior of the entire church and the interiors of all the school classrooms and dorm rooms. We had completed the world map mural and many hand-painted signs for all the classrooms.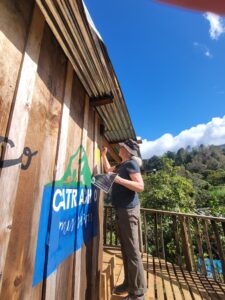 We had completed an 18-step staircase with two landings. We had framed, sided, and roofed the new bathroom, poured three concrete showers, plumbed two toilets, and constructed a deck and walkway around the bathroom. We had carried hundreds of pounds of wood through the jungle, distributed Christmas gifts to over 60 local kids, and taught sewing classes to 27 women. It was a tremendous feeling to look at all the progress we had made, but most of all it was such a blessing to work alongside our Honduran family, our brothers and sisters in Christ. To see the joy and excitement that they brought to every task, regardless of how difficult it was, was an inspiration. I wanted what they had. They sang all day. They laughed. They smiled. Something was so right about it. They served without hesitation. They had no other option. To not help was not an option. They lived their lives in service, every day, all day long. And their joy overflowed. This is what I hope I can cultivate in my life. This is what I want to bring home. Better than any souvenir, picture, or postcard. The truth is that when you lose your life, you find it. That a life lived in service is a life of joy. In putting others before yourself, you are free from the worries and anxiety of this life. I saw it and I felt it, and it changed me, and I will never forget it.
Check back each day as we follow Explore Church, Missoula on their journey to Honduras.