In January of 2023 a team of fourteen people from Explore Church went to serve with Catracho Missions in Comayagua, Honduras. This was an intense, rugged adventure deep in the heart of the Honduran mountains. Catracho missions has an incredible ministry to indigenous people. The following is a blog from Tom Attard, one of our team members.
Saturday, Day 5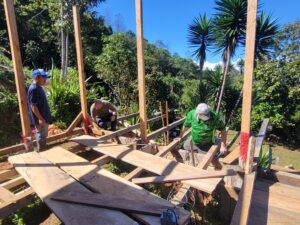 Jungle Stairs are not like normal stairs. They aren't built of normal materials, or in an advantageous place; they aren't even at a reasonable pitch. Jungle stair building is the guerilla warfare of the stair world. When Pastor Paul asked us to build stairs, I was excited. I have built many staircases. I am good at stairs. Stairs are kind of my thing. Then he showed me where he wanted the stairs, both their starting point and their ending point. I may have cried a little. The horizontal distance from the starting point, the access road, to the ending point, the new bathrooms, was quite reasonable, probably 12-14 feet. But the vertical distance from the starting point on the road to the bathrooms was unbelievable and seemed a bit impossible.
The vertical distance was closer to 20 feet. Going straight down was an impossibility. The stairs would have been a ladder. So, several landings needed to be created. The first landing needed to be 10-12 feet off the ground.
This required gigantic posts to be dug into the ground to hold up the highly suspended platform. To make matters worse, the soil on the mountain slope with 100% clay, or just mud to the layman. Two holes needed to be dug by hand to a depth of 6 feet. It was crazy to watch how deep someone can make a hole with only a post-hole digger. But after much effort and adjustment, we set the massive 20-foot long, 6-inch by 6-inch mahogany beams, wrapped in plastic, into the soil and buried them.
When I asked to be shown the materials that were available to build the stairs, I was shown a larger pile of rough-cut 2x4s that were approximately 6 feet in length. These were for the treads, and there was barely enough board to make the 18 treads necessary. However, if you have ever built, or helped to build, or even seen a staircase that was already built, you would know, something needs to hold those treads up in the air. That something is called a stringer, and we had exactly zero stringers. I was at a loss. I looked everywhere. I asked everyone. We had no suitable wood. And, as is too often the case, the last thing I did, prayed and ask God for help. I almost immediately got a picture of the log staircases I have built in the past, and the half-log stringers.
"Can we use the table tops from the old dilapidated dining hall?" I asked Daniel, the "jefe" (our work site supervisor). He said yes, and we began to take apart the half-log table tops. The staircase began to take shape. Mark and I were pounding nails. Tom Wolfe was cutting treads, and soon Jamie and Jordan wanted to help. We taught them how to use the only electric saw we had, a circular saw run by a generator. They did a great job cutting treads and supports. We pounded so many spikes, my hand began to cramp. It felt like the hardest I had worked in years.
But after two days and 18 steps later, we had a magnificent, community designed and built Jungle staircase.
God has the best ideas.
It is almost laughable how little we think to ask him for help and a little sad that we don't expect an answer. But he sees us. He is watching and waiting for us to ask him, ready and willing to help.
I think the best part was, the harder we worked, the more we seemed to enjoy it. Maybe those who "wait on the Lord, and renew their strength" are more like a "waiter," performing an act of service, than someone sitting around and waiting.
Check back each day as we follow Explore Church, Missoula on their journey to Honduras.