In January of 2023 a team of fourteen people from Explore Church went to serve with Catracho Missions in Comayagua, Honduras. This was an intense, rugged adventure deep in the heart of the Honduran mountains. Catracho missions has an incredible ministry to indigenous people. The following is a blog from Tom Attard, one of our team members.
Thursday, Day 3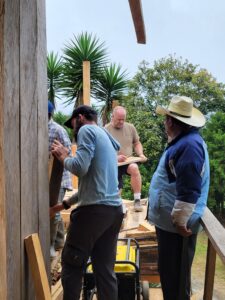 Our invoice says, "lumber package." We paid for materials. Where are they? We wondered out loud, "Why aren't they here?" We were met with an immediate answer. They are here, 1.5 miles away, up a mountain, climbing up a muddy single-track trail, straight up a 40-degree slope, then down into a creek bottom. Through more ankle-deep mud, back up another hill. And down to another creek bottom, and then back again. A 3-mile round trip, to carry every Honduran mahogany, rough-cut board. It was some of the heaviest wood on earth, green and wet. The locals had no problem. There were small teenagers carrying these boards alone. Not so for us non-acclimatized Americans. 5500-7000 of elevation, with 85% humidity makes for tough climbing. Trip, after trip, after trip, after an exhausting trip we trekked three miles for every board. It was unreal, and unbelievable that every board of the church had been carried, like a cross, up and over a mountain, but the smiles of joy on the Honduran faces were contagious. They have found joy in suffering, and they are always eager to share. It was us who had become the students, and they who had become the teachers. Please share with us what you have received, this ancient truth. "He who loses his life will find it, pick up your cross and follow me. Take me to yoke upon you, for my yoke is easy and my burden is light." Eight hours and countless trips later we stood with a stack of "Madera" wood to build this Mission. Let the building begin!
Check back each day as we follow Explore Church, Missoula on their journey to Honduras.