My name is Lee Merck. I have the privilege of serving as pastor of Church of the Rockies in Red Lodge. I am very excited about the opportunity to serve the MTSBC as coordinator of our new mission partnership with Alberta, Canada. In October of 2019, under the leadership of Dr. Barrett Duke, we as a state convention voted unanimously to enter a seven-year mission partnership with the churches of the CNBC in Alberta. (Canadian National Baptist Convention) This partnership doesn't officially start until 2020, but I'm already connecting with pastors and churches in Alberta to start laying groundwork for future opportunities.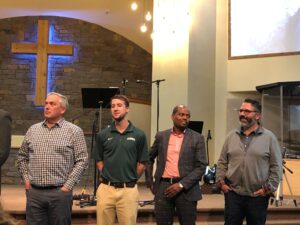 I praise the Lord that many of you have already reached out to let me know you are interested in participating, and I look forward to speaking with others of you in whom the Spirit of God will move. One of the exciting aspects of this partnership is that it is reciprocal. The CNBC Alberta North and South affirmed the partnership in their last official meeting. Our intention in this partnership is to help Alberta pastors and churches advance the kingdom of God by working alongside of them. Alberta pastors have expressed interest in serving with us in Montana, as well.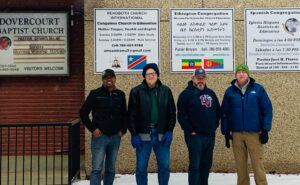 I have chosen Philippians 1:3-5 as our guide for this partnership. In these verses, the apostle Paul wrote specifically about partnerships. He also included thoughts about gratitude, prayer, and the centrality of the gospel. Paul wrote, "I thank my God upon every remembrance of you, always in every prayer of mine making request for you all with joy, for your fellowship in the gospel from the first day until now," Philippians 1:3-5 (NKJV)
Here is how I pray these verses will give direction to this partnership. Please pray with me that the Montana-Alberta Partnership will be:
Personal – "I thank my God upon every remembrance of you,…"
Partnering with others in the gospel ministry was personal for Paul. His heart was filled with gratitude for churches who were actively serving the Lord. He was genuinely interested in them and the advancement of the gospel through them. My prayer for us is that we will come to know the pastors in Alberta and the churches they serve, and we will be filled with gratitude for their work, so much so that we become personally involved and we lead our churches to do the same.
Prayerful – "…always in every prayer of mine making request for you all with joy,"
Prayer will be the key to success for this partnership with the CNBC Alberta churches. Our efforts are futile without God and will be without the Holy Spirit's influence if they are not born out of prayer. Will you join me in praying to God for Alberta, Canada? Will you also join me in listening to God for how He may direct us as we move forward with this partnership?
Practical – "for your fellowship in the gospel from the first day until now."
The fellowship that Paul is describing is gospel centered. It is aimed at sharing the good news of Jesus Christ and making disciples. Practically speaking, we want to come along-side of churches in Alberta in the areas of evangelism and discipleship. At the end of this seven-year partnership, more people in Alberta should know and love Jesus as a result of our involvement. More pastors should be encouraged. More churches should be planted. More people from Montana and Alberta should be active in serving the Lord and sharing their faith. The key word here is "more." The Montana-Alberta partnership should create spiritual synergy that increases our Kingdom efforts and advances the gospel.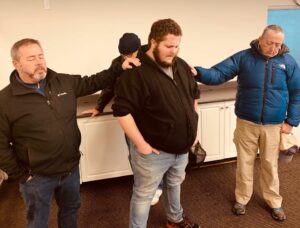 In Acts 9:31, the scripture says, "So the church throughout all Judea and Galilee and Samaria enjoyed peace, being built up; and going on in the fear of the Lord and in the comfort of the Holy Spirit, it continued to increase." The reality is that for this partnership to be successful, we need to see churches "continue to increase" in Montana and in Alberta. This I believe will happen if we make it personal, if we become serious about talking to God for Alberta and listening to God for Alberta, and if we stay focused on practical gospel centered ministry.
As we enter into this partnership together, let us do so expectantly. Let us serve side-by-side with great passion for the Lord and His work. Moving forward I will be working to help you make connections and develop relationships with the pastors and churches in Alberta. Our hope is to connect pastors with pastors, planters with those who are actively planting, and ultimately see local churches develop relationships with sister churches. The bottom line is you will have the opportunity to lead your church to develop a partnership and to be on mission in Canada.
But for now, I need your help with a special CHRISTMAS PRAYER PROJECT! I'm inviting you to join with me and with one another to pray specifically for pastors, their families, and the churches they serve in Alberta. I'm also asking you to send them a Christmas card letting them know that you are praying for them. You will receive a letter from the MTSBC with the name of a pastor, the church they serve, and the address to which to send the Christmas card. If we have 100% participation from the MTSBC churches, every CNBC church in Alberta will be prayed for, and every pastor will know they've been prayed for because they received a Christmas card from one of you. This will ensure that we start this partnership off the right way, with prayer. I believe our effectiveness in our newly formed partnership and the work we do together will be determined by our efforts in prayer. All great movements of God have been under-girded by prayer!
Note: The "Christmas Prayer Project" for the churches in Alberta will occur annually. You will likely receive names of different pastors and churches each year for the next seven years. This is a "stand alone" effort and does not obligate you to an ongoing partnership. This is an easy, yet powerful, way for all of us to participate.
I'm excited about what the Lord has in store for you and your church! I'm praying and believing that this partnership will be used by God to transform lives not only in Alberta, but right here in Montana. If you are interested in knowing more about opportunities for partnering in Alberta please contact me at 406-210-8677 or email me at [email protected]. I look forward to hearing from you.