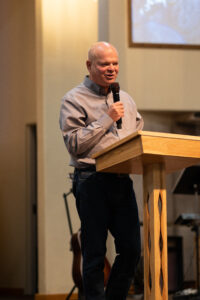 I thought Refresh was great! The spirit throughout the meeting was upbeat and encouraging. Our MTSBC President Chad Scarborough and Canada National Baptist Convention Ministry Leader Gerry Taillon spoke powerfully and effectively into our lives and ministries. We were also challenged to consider new ministry opportunities.
Of all that we experienced at Refresh, it was the challenge to look around and lead out in new ways that I hope our pastors and church leaders took away. William Johnson helped us understand the urgent need to plant churches across the state. We have great locations around the state right now that need a new gospel ministry. I know it can be a daunting thought for a smaller membership church to consider starting a new church. But, suppose a half dozen churches decided to work together to plant a new church? Maybe even an entire Association of churches could make the commitment to pool some of their resources and work together to start a new church. Essentially, this is what we already do at the national level. Our SBC churches give to the Cooperative Program, some of that money from all those churches goes to our North America Mission Board and then it gets distributed to different church planting efforts around the country. Why not do that in a more local way, too? Call me or William Johnson at 406-252-7537 if you're interested in finding some church planting partners. I'm sure they're right here in our state.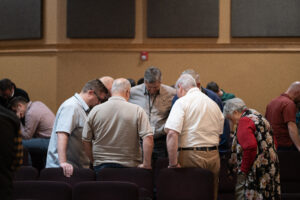 In addition, Darren Hales did a fantastic job sharing with us some of the ways our churches can become more involved in reaching their communities. We have everything from community meals to community rodeos going on in the state. Darren is looking for churches that want to do something new. If you have an idea, he can help you find resources to turn it into ministry. If you don't have an idea, call us or go to the Go Montana forum at www.gomtsbc.org for lots of great ideas. I think you know that the days of putting out a sign and having dynamic worship and preaching are not going to bring people in like they used to. We have to go to them and touch their lives and earn the right to share our faith. Let us know what you're thinking about doing. We'll put you in touch with people who can help you think through the details.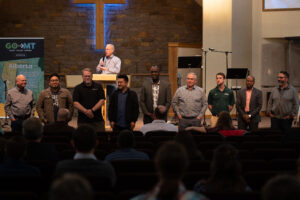 Then, there's our new Alberta missions partnership. If you were at Refresh, you had to be impressed by the number of Alberta pastors who joined us to kick this off. These are good men serving in very hard places, very much like where we are in Montana, and they're looking for partners to help them plant and grow strong, relevant churches. Some of them are also looking for churches where they can send some of their folks to assist us in our own work. In fact, the day after we unanimously adopted our Go Montana: Alberta Partnership at Refresh, the Alberta churches met in their own annual meeting and voted unanimously to be a part of it, too. Get in touch with Lee Merck, our Alberta partnership coordinator, at [email protected], to find out how you can become involved in this international mission effort to help reach lost people with the gospel.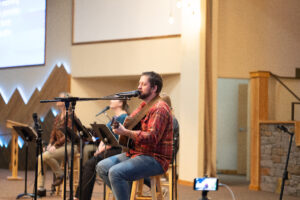 We're also moving forward with plans for a MTSBC-sponsored mission trip to Peru. The trip will be led by former IMB Peru missionary Brian Henderson from August 8 to 16. We're looking for 25 people who will answer God's call to bring the gospel to Lima and its surrounding communities. If you wonder if the gospel still works, take this trip and see for yourself. For the first 15 people from churches that haven't sent someone on an international mission trip in the last ten years, the MTSBC will even pay for half the cost of this trip. We want you to be part of this. We want you to see God save lost people. We want you to bring your witness of God's power back to Montana and your church. We want to watch what God does in your life, your church, and your community as you experience His life-changing power at work in people's lives. Join us for this. Contact Sharon Ellington at [email protected] or Brian Henderson at [email protected] to find out more.
These are just a few of the opportunities before you right now. We had many exhibits at Refresh for many other ministries, from teaching English as a Second Language to feeding hungry people to giving a child a loving home. We can get you in touch with anyone you spoke to at Refresh if God is beginning to stir in your heart about something you heard about. You're not alone when it comes to taking on something new. That's why we work together as Montana Southern Baptists. We have made the commitment to be there for each other. Use that. Share in that. Put it to work in your communities. But by all means, don't let this next year be just like last year. Do something new. You'll be glad you did. The people you touch will be glad you did. Your church will be glad you did. I'll go so far as to say that God will be glad you did.
The opportunities to make 2020 different from 2019 are right in front of you. Reach out to your Montana Southern Baptist Convention staff and tell us what you believe God is putting in your heart to do. We'll do everything we can to help make that happen in 2020. Thanks for all you are doing, and thanks even more for all you are going to do. To God be the glory.