Hello all,
If you are anything like us, you are well into the thick of summer activities. Here in Helena it means that people cram everything outdoors into about a 3 month window. For Capstone it means busy summer outreach and church fellowship.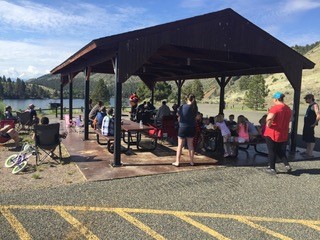 There a few things to update you on since my last update. On Mothers Day, we dedicated 6 kids from three families. We are excited to see just how God is working in and through families and our kids ministry continues to be a strong point of our ministry. In turn, this last week we had Church at the Lake for Father's day. We had a great turn out and even worshiped shoreside on Sunday morning.
In May, we also had a mission team from Ponder, Texas. Four men came and helped work on our house (we've been in a two year long remodel project.) They were a tremendous help and they caught a little of the vision God has for Helena too.
Looking ahead, we will host our next team starting Saturday. Another team from FBC Ponder will join us for community outreach as well as some work on a sound booth. We will continue to have teams throughout the Summer including FBC Camden, TN, FBC Denton, TX, and Crosspointe from Duluth, GA. Pray for travel mercies, for connection opportunities, and for Gospel impact.
What to pray for:
-Two block parties-June 27th and July 18th
-Adventure Camp-July 29-August 1st
-Numerous community projects and outreach emphasis
-First responder care ministry
Thanks for your continued support!
Caleb Groteluschen
Pastor, Capstone Church