Pastor Jeff Parker was raised in church in a small town in West Texas. Growing up near his grandmother, Jeff says, "If they weren't in church everyone was in trouble!" He laughingly recalls, "We attended the same church as my grandmother, it was a family tradition." He was raised within the Disciples of Christ and was saved at nine years old. Knowing he was a sinner and he needed forgiveness, Jeff was certain that was what he needed to do. "I knew there was no other thing I needed to do in my life right then but receive Christ."
While attending church camp during eighth grade, Jeff surrendered to ministry and knew that he would be involved in ministry in some way. Throughout high school, he continued following God. He thought being involved in ministry simply meant volunteering for different things within the church. Throughout college, he was convicted that ministry can look many ways and he began to believe he was called into a more full-time ministry, possibly even as a pastor. Jeff recalls, "I remember my wife telling me she had dreams of marrying a pastor and God was just working on that call early on."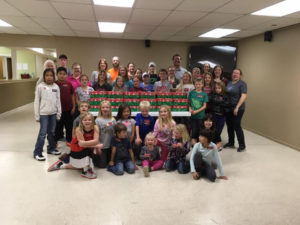 The Lord laid ministry on Jeff's heart early, telling him that He was going to provide some ministry opportunities and that he needed to step in and take them. He continued in this position for about eighteen months. He then moved to Abilene, TX to continue his undergraduate degree and ministry in media and film. God allowed failure in that area, but Jeff continued to lead youth and music wherever he was going to church.
Amber mentioned that since he was working a full-time job and then doing full-time ministry, maybe he should simply take on just a full-time ministry role. They ended up moving again and accepting a full-time discipleship and music ministry position. Jeff served for six years and, even though there were no problems with this ministry, "God began moving the family to a different ministry." Even Jeff's nine-year-old son started praying, "If God wants us to stay, let us stay and if God wants us to move, show us where."
Jeff received an email from the small church in Colstrip. The Parkers had never been to Montana, but knew this was a place God wanted them be. Jeff, Amber, and even their son, felt the call to Montana. Even though they had never been out of Texas or far away from extended family, they followed God's call to First Baptist Church, Colstrip. They arrived in July 2017, during one of the hottest and most smoky summers on record; and then went through one of the hardest winters Montana has seen in a while. After all of this, his family still loved Colstrip.
After he got acclimated with the amazing core group of individuals attending First Baptist Church, Jeff started working with Pastor KJ Ellington to strengthen and assist the growth in the church. First Baptist, with Jeff's leadership, has begun to draw new people in. In 2019, Jeff says, the vision is to be more intentional about evangelism and reaching out to those around them with the gospel of Christ. Prayer-walking and being intentional about evangelism training and discipleship is very important. The one-on-one sharing of Christ has become a priority.
Jeff asks that as a Convention, we pray for the church and the community. With the uncertain future of the powerplant and mine in Colstrip, nobody is walking away unaffected by this trial. Jeff is trying to speak truth and the knowledge that God is still in control and that the church can still shine a light with whatever happens with the local economy. He continues to praise God for bringing him and his family through some trials this past year and continuing to use him in the upcoming year.